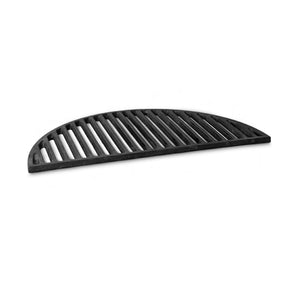 Available sizes: 18", 21" & 24". Please note, this is not actual size of item, measure outer diameter of your kamado and the pick the size. It's suitable for 18" , 21 or 24" kamados. normally it will be 3" - 4" smaller than you Kamado.
This cast iron half-moon shaped grate will add a special flavour to your food. Thanks to the thick metal layer, the surface of the grate retains the heat after a steak or vegetables are placed on it. The food thus acquires beautiful grill marks and cooks faster.
It can be combined with the cast iron cooking surface. Use this half-moon shaped grate instead of traditional stainless steel grate or integrate it into the multifunctional dual zone cooking system.